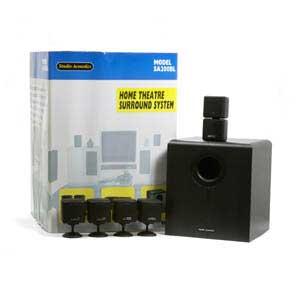 Home Theatre Pack, 4 Satellites, Centre Channel & Subwoofer - Black
Discontinued:
This product has been discontinued. Dealers may still have stock.
Description:
Home Theatre Pack (Black) comprising 4 High Quality satellite speakers with 2.5" drivers, dual 2.5" centre channel & 8" active bandpass subwoofer. All 100 watts, 8 Ohms and shielded. Comes with small speaker stands for swivelling or adjustment to any angle.